Carlton's History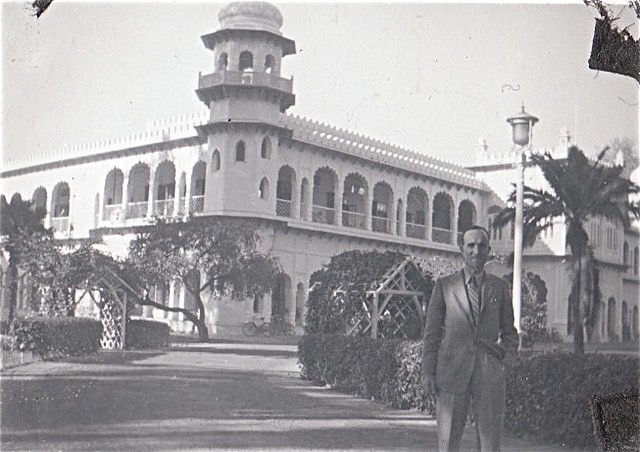 The Carlton has been a popular marriage destination for over 50 years. Built by an Englishman Mr. Frederick W. Lincoln, Carlton's regal architecture is a fine blend of English classic and Mughal splendour that still mesmerizes the onlookers. The beautiful palatial façade of Carlton has attracted Bollywood for shooting here. The Hotel has had eminent room guests – Pundit Jawahar Lal Nehru, Dr. Rajendra Prasad, Mrs. Indira Gandhi among others.
Along with the old-world charm, the property also comes with beautiful settings and unique locations like hundreds of years old banyan trees, water features like fountain and streams, a royal chariot, and vintage Mercedes and Pontiac cars, which can become a great backdrop, for just about any event, be it traditional, cultural, or corporate.
What Does The Carlton Offer?
The Carlton Hotel offers outdoor and indoor venues for parties that can accommodate from 50-100 guests for an intimate affair to 800-1200 guests for a big fat royal Indian wedding. You can choose from three venues according to the size of your gathering, and the look and feel you wish to have for your wedding:
This is Lucknow's biggest lawn which can accommodate over 1000 guests. It boasts of a lush green soft lawn with a palatial backdrop that can give a regal enamour to your wedding. The beautiful lighting, complimented with a tasteful choice of colour palette, turns this pace into a magical land, perfect for your dream wedding.
This venue boasts of a lush, green soft lawn, surrounded by majestic trees, rockery and waterfall and the palatial façade with its arches, domes and alcoves creates an extremely regal ambience for a grand wedding.
This venue can accommodate upto 1000 guests. The décor has a variety of colour schemes , which is complimented by beautiful lighting of fairy lights, candles, chandeliers and lamps creating a royal , palatial look for a grand wedding.
This is a beautiful lawn with a centuries-old Banyan Tree, and a Water Stream makes this place perfect for small gatherings of about 250 guests.
This venue can accommodate upto 300guests.There is a majestic Banyan tree with prop roots and towering Burma Teak trees which give shade and add tranquility and serenity to the place. There is a waterfall and an alluring stream which adds a fairy tale like beauty to the venue. The wooden bridges lit up with fairy lights and lamps is a rare sight to behold which each one of us would like to capture in our photographs because life is all about creating memories!.
This is a beautiful tiled area surrounded by palm trees and an age-old tree right in the centre of it. The English charm of the checkered tiles in the gallery can't go unnoticed. It is a perfect place for small gatherings of about 250 guests.
This venue is suitable for small gatherings and can accommodate upto 250 guests. It is an indoor – outdoor venue with a magnificent tree in the centre, checkered tiles in the gallery elucidating an English charm . The arches along the verandah give a regal ambience and it is absolutely mesmerizing when it is lighted up with a canopy of fairy lights,globes and chandeliers.
The venue provides an exclusive and personal place for our guests.
Rooms For Bride & Groom
Two rooms are also available for those who book their event at one of our three venues. These rooms are spacious and furnished with all the amenities to help the bride & groom and their relatives get ready, relax, or lock their things in.